---
12-24GB 4 mm DDS-3 Tape Drive
Workstations:
Ultra 1, 1E, 2
Ultra 30, 60, 80, 450
Sun Blade 1000, 2000
Servers:
Enterprise 250, 450, 220R, 420R
Enterprise 150, 3x00, 4x00, 5x00, 6x00
Sun Fire 280R, V880, V890
Telco:
Netra ct 400/800, ft 1800
Netra t1120/1125, t1400/1405
Options 6280 / 6281 / 6282 / 6283 / 6284 / 6286 / 6912 / 6930
TAP4MM-011A / TAP4MM-021A
370-2376
370-2377
540-4016
540-4409-03
HP C1537-00626
Medium Grey Bezel
HP C1537-00625
Light Grey Bezel
Netra ft 1800 FRU
RMM Tray with
CD-ROM + DDS-3
ct 400/800 FRU
RMM Tray with
370-2376
Front View

Rear View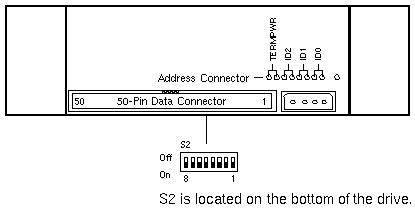 Notes
The minimum operating system is Solaris1.1.2 or Solaris 2.4.
Switch S2 is disabled by the Sun firmware.
An Adapter Cable is attached to the Address Connector.
The Adapter Cable is provided by the drive manufacturer.
The Blank Data Tape part number is 370-2378-01.
The Cleaning Kit part number is 370-1613-01.
Firmware Update Tape L706 (December 1997) is part number 370-3376-01.
Firmware Update L007 (January 2001) is available in Patch 112092-01.
Reference